* AntjeDuvekot (Bull Run Restaurant)
Name:
* AntjeDuvekot (Bull Run Restaurant)
Event Description: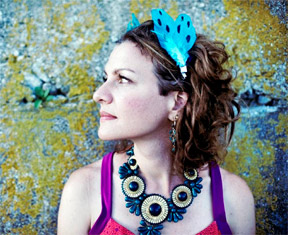 10-14-2017 (Ballroom)

"Toward the Thunder" is Antje Duvekot's fourth studio release. Produced by Antje and Scott Petito and recorded at NRS studios in Woodstock, the new album centers around themes of courage, resilience and striving for something better. It features an impressive cast of folk royalty from Shawn Mullins to Anais Mitchell, Liz Longley to John Gorka, Kris Delmhorst, Martyn Joseph and Richard Shindell. In addition to nine new Duvekot originals and the traditional tune "the Parting Glass," it features a Dar Williams cover "The Light and the Sea" from which the record title and album art are derived. The song is about resilience and how there is always a light that one can turn to, no matter the surrounding storm and upheaval. Like most of Duvekot's writing, this sense of hope, perseverance and adventure pervades the songs on "Toward the Thunder". Thus far, the album has been garnering stellar reviews and is, by some, being called her best work yet!
Buy Tickets