* Davy Knowles (Bull Run Restaurant)
Name:
* Davy Knowles (Bull Run Restaurant)
Event Description: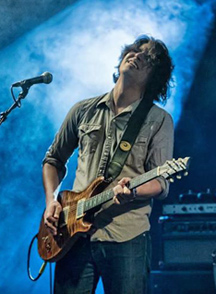 11-4-2017
Former "Back Door Slam" frontman Davy Knowles has a brand new album, "Three Miles from Avalon," to be released this Fall. Recorded exclusively in his adopted hometown of Chicago, the capital of electric blues, provided Knowles with a landscape steeped in legend, inspiring him to creatively explore the genre of music he's always loved - energetic, guitar-driven, blues-rock.
Hailed by Peter Frampton as, "The Gunslinger guitarist of the 21st century" Davy has been hitting Festivals like Lollapalooza, Memphis In May, Bonnaroo, and Austin City Limits, and touring with legends such as Beck, George Thorogood, Peter Frampton, Buddy Guy, The Who, Warren Haynes, Kid Rock, Lynyrd Skynryd, and Joe Bonomassa. Knowles has created a unique Rock/Blues sound that caused Joe Satriani to call him "My favorite modern bluesman."
Knowles grew up in the Isle of Man, UK and learned guitar by listening to Gallagher, Clapton, Knopfler, Green and Mayall from his father's record collection. Arriving in America age 19 with his band "Back Door Slam," and an acclaimed debut album, he recieved rave reviews at SXSW 2007. ("I heard the spirit of Jimi Hendrix " - Patrick MacDonald, Seattle Times). From that dynamic introduction he proceeded to make a significant impact across US media, with memorable TV performances on Jimmy Kimmel and Good Morning America, and a three year run at radio with the singles 'Come Home' from the debut album "Roll Away" and 'Tear Down the Walls' and 'Coming Up For Air' from the Peter Frampton produced sophomore album. Both albums topped 3 Billboard Blues Charts.
In 2011 Knowles's song "Reach Higher" was the official anthem for the Youth Commonwealth Games, and in 2012 his 'birthday' tribute to Woody Guthrie - a stunning electric version of Pastures of Plenty - was released in aid of "WhyHunger?"

From the very start Knowles earned the respect of fans, media and musicians alike, including some of his own musical heroes such as the aforementioned Peter Frampton, Joe Satrianni, and Warren Haynes. British Blues Legend Bernie Marsden (Whitesnake, Moody Marsden Band) is another fan: "Davy Knowles continues to amaze me - he's still so young and yet he plays, writes and sings with such maturity… He's a rare bird, one I will continue to watch and study."
Davy's brand new album, "Three Miles from Avalon," is already causing quite a stir with critics: "Chicago based Davy Knowles is at it again... Dripping with classic blues riffs and intricate guitar work, this is exactly what we have come to expect from an artist who has not one, but two, top three billboard blues chart albums. This newest venture

Three Miles From Avalon

does not disappoint. My
favorite track "Oxford MS", a story song of violence and torment pushes this album from amazing, to astronomically amazing. Meanwhile, "Never Gonna Be The Same" sounds like Knowles stretched the south side of Chicago all the way down to the bayou. It has a slick and humid sound that leaves you sweating for more. Moving right along we have the albums namesake, "Three Miles From Avalon," which creates a downbeat whirlpool that pulls you in and keeps you there.
This album is a powerful and compact explosion of blues that brings together the classic sound of Chicago with southern and delta blues."
VIDEO 1 with Peter Frampton & Sonny Landreth VIDEO 2 with David Grissom and Lance Lopez
Buy Tickets