* Monster Mike Welch and Mike Ledbetter (Bull Run Restaurant)
Name:
* Monster Mike Welch and Mike Ledbetter (Bull Run Restaurant)
Event Description: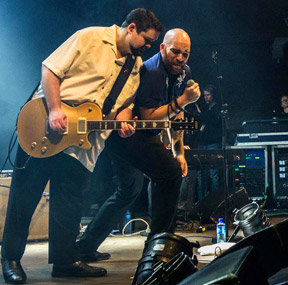 11-30-17
Mike Welch was dubbed "Monster Mike" at age 13 by Dan Aykroyd, which means Welch has been blazing away on his guitar for 24 years now. At only 37, he's still one of the youngest pure players we have. Besides being a key ingredient for the region's long-running Sugar Ray and the Bluetones, Mike has done six solo albums and played with a whole host of other folks as well. Yet, this may well be his finest guitar statement. He thinks so, "Bigger than my expectations….probably the best music I ever made."
Mike Ledbetter has delivered exceptional vocals for the Nick Moss Band, revealed his powerful voice again on Ronnie Earl's "Father's Day" and earned a reputation for being one of today's best blues vocalists. As a trained opera singer and one who has sung in every conceivable genre, Ledbetter channels his range, intonation and phrasing into what he feels is the most emotional music, the blues.
The fact that these two met and recorded an album together is something we should all be grateful for. Maybe it was always gonna happen; fate, as they call it. Or just dumb luck. But when Monster Mike Welch and Mike Ledbetter put together this band and recorded "Right Place, Right Time," they hit the nail right on the head. As Welch observes, "The blues guitar tradition is about playing like a singer, and from the first time I heard Mike, I knew he was the kind of singer I've always been trying to play like. His experience and training gives him otherworldly precision but the way he tells the story comes from someplace deep inside him." Ledbetter counters, "The way we played off each other was beautiful to me. When it comes to intensity, we are at the exact same speed as singer and player. In addition, my vocal lines, tone, and vibrato are very similar to his guitar playing. Everything just fit perfectly."
For the record they brought in Laura Chavez (of the late Candye Kane's band) for four tracks, Anthony Geraci, Welch's bandmate in the Bluetones on keys, Ronnie James Weber on bass, Marty Richards on drums, Doug Jameson bari and tenor sax and Sax Gordon on tenor sax.
If you haven't heard this album yet, you'll want one. It's a scorcher from beginning to end; not a mediocre cut in the bunch.
Sometimes two people get together and everyone just knows that yes, this is the beginning of a beautiful thing. Come and check it out at the beginning.

VIDEO - VIDEO - VIDEO - VIDEO
Buy Tickets