* Reckless Kelly (Bull Run Restaurant)
Name:
* Reckless Kelly (Bull Run Restaurant)
Event Description: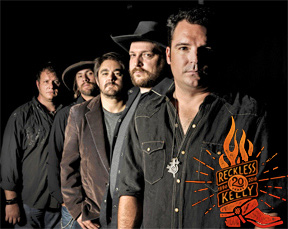 11-1-2017
If you saw the Reckless Kelly show at Bull Run last year, I know you will all be back. For those of you who missed it, ask around, you won't want to miss it again. Their songs will grab you on first listen and pull you in deeper with each play, and their live shows are wild contagious fun. They first gained steam as one of the nation's top Americana projects in Austin, Texas, where their high-energy honky tonk packed venue after venue.
Now they come armed with a formidable 8 album discography to blow the roof off. Their 2011

Grammy Nominated

"Good Luck & True Love," took home

four Lone Star Music Awards

, and sent

three singles to #1 on Texas Radio

. And their newest from 2013, "Long Night Moon," was produced by band members Willy & Cody Braun, along with Lead Guitarist David Abeyta. Long Night Moon was mixed by Ray Kennedy (Steve Earle, Emmylou Harris), and features additional instrumentation from legendary steel guitar player Lloyd Maines, as well as Bukka Allen (piano, organ) and Jeff Plankenhorn (dobro).
When Willy Braun, frontman and principal songwriter for the band began writing songs for "Long Night Moon," he quickly found a theme emerging. "About halfway through writing this record, I noticed that almost all of the songs I was writing, whether they were songs about the road, life, or love, had something to do with traveling. It started as an accident and I decided to just go with it. Before we knew it, there was a definite theme." It's honest, original and constantly evolving. The group is known for their explosive live shows and a passion for making albums of substance. "Long Night Moon" is no exception to this rule.

VIDEO 1 - VIDEO 2
Buy Tickets