* The Kennedys (Bull Run Restaurant)
Name:
* The Kennedys (Bull Run Restaurant)
Event Description: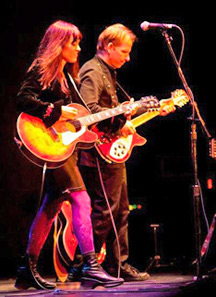 12-2-2017 (Ballroom)
Pete and Maura Kennedy met at the Continental Club in Austin Texas. Within a few weeks, they went on their first date at Buddy Holly's grave in Lubbock, TX, and within a year, they were touring together, as part of Nanci Griffith's band, and as the opening act on Nanci's two month tour of the British Isles. In a dusty little dressing room on the top floor of Dublin's Olympia theatre, they penned the songs that would become their first CD, "River of Fallen Stars". The CD was awarded the "Indie" award in 1995 for "

Best Adult Contemporary CD

" by the National Association of Independent Record Distributors. Eleven CDs and several side-projects later (The Strangelings, The Stringbusters, and their solo projects), they enjoy loyal followings in both the guitar camp and the singer-songwriter set. Ultimately it's their tight harmonies, their chemistry and their unashamedly idealistic outlook that has carved them their own niche in the studio and onstage.
In April, 2015 Pete & Maura celebrated their 20th anniversary with the release of their new album, "West," online. Get a signed copy here on the night of the show.
"West" is a gem of an album; thirteen varied and beautifully-crafted songs played and sung with taste and sensitivity by two very gifted people...I haven't heard a better album in a long time." 5 out of 5 stars. - Allan McKay, MusicRiot.co.uk
Buy Tickets