What will you do with an extra day?
What will you do with the extra day we all get this Leap Year, on Saturday, February 29, 2020?
How about - - take part in Leap of Kindness Day and do something kind for someone else.
To help you participate, we reached out to local nonprofits in Nashoba Valley Region and asked them for some ideas. While you can wait to deliver any items you might donate, we encourage everyone to start collection activities within your workplace or organization as soon as possible to maximize your participation and community impact.
We are also inviting our members and other local organizations to share with us their own creative ideas for participating in Leap of Kindness Day this year.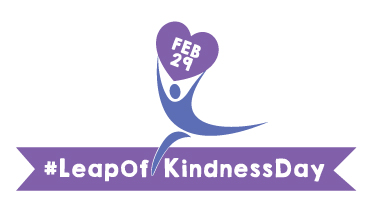 Some ideas...
... buy coffee for a person in line behind you
... make a meal for a friend who is stressed
... donate your time to a local charity
... ask someone about their day - and actively listen
... bring a snack/dessert to the office to share
... write a letter to someone
... babysit for a friend
... put money in a strangers parking meter
... leave a large tip for no reason
... smile at everyone you encounter
... donate blood
Here's what our local nonprofits are requesting:
Heart of New England Council, BSA
Make a donation to the Campership program. The Heart of New England Council Campership Program provides scholarships to youth who can not afford the camping experience on their own. Heart of New England awards over 150 camperships valued at over $20,000 to local youth in our communities.
Donate HERE.
Volunteer to help tidy up and reorganize their storage space.  ShirleyArts! storage space is located at Phoenix Park in Shirley and is looking for volunteers from 10am to Noon on Saturday February 29th.  The group sponsors plays, concerts, and music lessons throughout the year. They store props, scenery, and costumes for their own use and loan them to schools and to other local theater groups. Bags and boxes of materials need to be sorted, re-packed, and placed on correct shelves. Contact them at mail@shirleyarts.org if you are willing and able to help and they will send directions.
Habitat for Humanity North Central Massachusetts
Donate or volunteer to help with our current building projects
Habitat NCM is building two new homes on Lake Shore Drive in Ashburnham, as well as performing critical home repairs in many local towns, and we could use your help.  You can volunteer to build with us any time during February, or volunteer at our ReStore in Leominster on the 29th,  by signing up here (http://ncmhabitat.org/volunteer-2-2/) .  In addition, we are still purchasing materials for our new homes and you can donate to help us buy sheetrock, bathroom fixtures and door hardware here (http://ncmhabitat.org/donate-2/)
Here's what our members are doing to help:
Below is a list of "acts of kindness" our member organizations are planning to do to join our Leap of Kindness Day celebration.
Please share what you are doing with us on Facebook or send us an email. We will make every effort we can to thank and publicly acknowledge all of the acts of kindness taking place in Nashoba Valley and beyond.
110 Grill  and Evviva Trattoria
110 Grill and Evviva Trattoria are sister restaurants with locations in Massachusetts, New Hampshire, New York - and growing.  The 110 Grill and Evviva Trattoria locations Nashoba Valley region will be bringing food to local responders.  Alex Pineau said, "I can't think of a better way to support our communities then by supporting those who protect them!"